Web Presence Analysis
We will help you to check how your company is viewed when someone searches for your products or services. Then, we will tailor a marketing and branding strategy specifically to meet your needs!
A successful, digital strategy is based on a correct analytics setup of your website and your business.
Web presence today centres on a more comprehensive approach to Internet marketing. With the incredible growth of social media, coupled with the power of Search Engine marketing and content marketing
Once we will create a clear roadmap for you with top priority things to do. Then you will have a much better understanding of what efforts you have to do and where you need to focus on.
The goal is to build and sustain a credible and well-promoted web presence that is visible in the search engine and social media.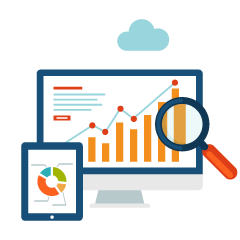 Do you need a better web presence visibility for your business?
Ask yourself: 
How quickly can your business be found in search engines when someone searches?
How easy is to find you on the internet and contact you?
How is your reputation among your customers?
How does your business compare to your competition?
Do the right visitors visit your site?
Does your content attract the right visitors and the target audience is identified?
Is your website mobile friendly?
We help you find the answers to these essential questions, Contact us! 
How to build a web presence? 
Research your competition – You start by evaluating your competitor's website and followed by their social media presence
Build your website – After selecting a domain and figuring out a hosting plan, you need to turn your attention to the design and website's structure.

And, remember that your website is the best business card ever!

You need to claim as many Social Media Profiles as possible.
Create your own on-site blog, as well as establish relationships with other websites and blogs
Optimise pages, content, pictures and videos, etc. 

it's important to optimise your pages so they're visible and searchable. When it comes to SEO, on-page ranking factors simply can't be ignored!

Reap the Benefits of a Strong Internet Presence.
Maintain – This is a regular job because of search engine algorithms are tweaked as well customer preferences change